BENEFITS THAT GO BEYOND MATH!
Universal Concept of Mental Arithmetic Systems (UCMAS) is an international educational organization, globally recognized as a leader in whole brain development and mental math training. Founded by Dr. Dino Wong in 1993 in Malaysia, UCMAS Education Group has trained more than one million children in UCMAS Mental Math Schools around the world. UCMAS as of August 2014 operates from over:
Our whole-brain development program builds foundational techniques that make learning math, effortless and enjoyable. By mastering these techniques using the Abacus, students develop the ability to think in pictures and quickly learn to perform large calculations mentally. Over time, our students come to love a subject they may have once struggled with, or even feared. Attaining astonishing calculation speed is actually the end-result of increasing the "brain-fitness".
Students learn to focus for sustained periods, to manage their time while completing long series of sums, as well as, to concentrate on more than one task at the same time while. These are crucial life skills that students will use again and again.
Recognized as one of the best abacus math programs for kids, UCMAS demands self-discipline and promotes the joy of lifelong learning and self-discovery. Our students become motivated learners – the best route to success in academics and beyond.
Here's a list of skills that the UCMAS students develop over time: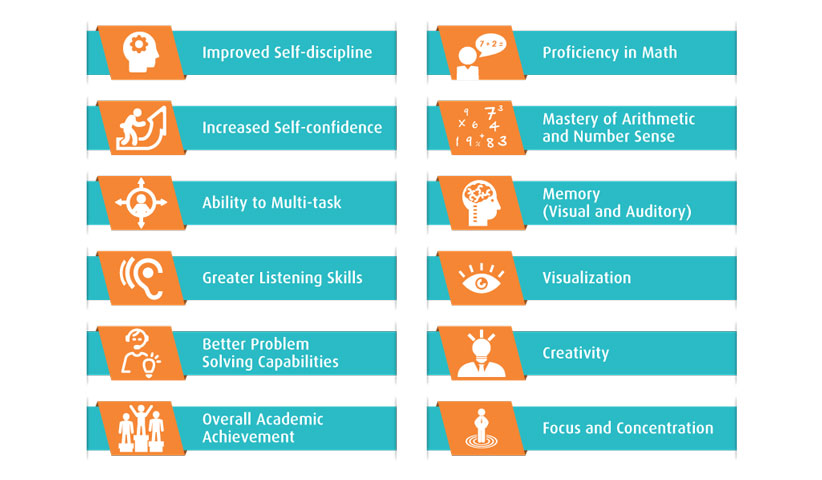 UCMAS not only leads to greater student proficiency and confidence in mathematics, it also builds the framework for children to develop fundamental learning skills essential to actively succeed in school and in every avenue of their daily life and to inspire them to achieve greatness.
With the help of innovative pedagogical techniques developed by program specialists that include child development experts and child psychologists, UCMAS maintains a world-class math program for kids that deliver maximum benefits and skill development.